Donal O'Shaughnessy
Irish Entertainer, Singer and Story Teller Extraordinaire!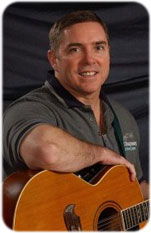 Donal left his job as a registered nurse in a maximum security prison to rise from local player to international performer.
Donal brings his show throughout New York, Pennsylvania, Ohio, North Carolina, Baltimore, Ocean City, MD, New England and Canada.
Newport Rhode Island´s Waterfront Irish Festival; The Ohio Irish Festival; The Irish Cultural Festival in Berea, Ohio; The Celtic Festival in Brockville, Ontario, Great American Irish Festival in Herkimer, NY, Buffalo Irish Festival, The New York State Fair, Coney Island Irish Festival Millford Connecticut and the Cortland & Elmira New York Festivals are just some of his festival accomplishments all as a solo performer.
In June 2002, he completed an album of original songs in Nashville, Tennessee which is enjoying radio airplay. His release "LIVE at the Flat Iron Cafe" was released November 2005. (See all playlists by clicking on latest recordings button or purchase-no obligation!.) His NEWEST ALBUM is an hour's worth of jokes recorded live entitled "Paddy...Is A Guy!!!"
Each year he performs in Ireland while bringing a tour group from America.
Donal O´Shaughnessy is a multi-talented performer. He is a self taught musician playing Guitar, Fiddle, Keyboards, Pipe Organ, Bodhran and Mandolin. Although he is best known as a performer of Irish music and ballads, his repertoire includes hundreds of songs from pop, country, the swing era and many originals that have become favorites at his regular spots.
Donal is probably best known for his live performances. His quick wit and spontaneity with his audience keeps people in their seats until the very end of the night. He is oftimes called a comedian and is known for his work ethic as he rarely takes a break. On St. Patrick´s Day 1997 he played 12 straight hours only repeating a song if it was requested! And in June 2003 played over 6 hours without so much as a pee break at Pickle Bill's in Ohio.
On Donal O´Shaughnessy´s songwriting:
"Donal O´Shaughnessy´s Honeymoon for two...could bring a lump to your throat." Molly Alexander, New Age Voice Magazine, March 1998
"It's musicians like this who will keep Celtic music thriving" Molly Darden, New Age Voice Magazine, February 2003
Winner of the 1996 Fleadh Cheoil Mid Atlantic Regional Irish Singing Contest (7th place, fiddle contest at the same event)
"The voice as smooth as velvet while being one of the funniest people you will ever see"...It is often said, his best instrument is his very own voice (and the unpredictability of what he might say!).